Machine learning seems really fun because in this field developers tech computers real-world experience and according to that inputs machine give outputs. So, you can build cool stuff with Machine learning APIs available in the market and all are free to use.
There are some of free APIs I know listing here.
Skybiometry
Clarifai
Recognize and Extract Text(Firebase ML-KIT)
Recognize Landmarks (Firebase ML-KIT)
Cloudmersive
Skybiometry have good API to Detect faces at various angles, Detect multiple faces in a photo simultaneously With or without glasses and With any expression.
Client library available for developments: NuGet, C#, Python, Ruby, PHP, JavaScript, iPhone, Java.
API call example:
http://api.skybiometry.com/fc/faces/detect.json?api_key=<API_KEY>&api_secret=<API_SECRET>&urls=http://example.com/image.png
This API call return lots of information about attributes determination points like Find location of eyes, nose, mouth and many other points for each face detected in the photo. Apply attributes determination for gender and age, check if the person is smiling, have eyes open, lips sealed or wearing glasses. And even differentiate between clear and dark glasses!
Clarifai provides service to recognize images and videos with their power API. you just have to input images and Clarifai API will return predictions as a JSON response.
The best things are they have lots of modal base prediction like if you run the input with food model then the predictions will give you result related with the food model know about. Other models are Color, Celebrity, Face Detection, Moderation, Travel, Demographics, etc. Here is clarifai model list
Client library available for developments: JavaScript, Python, Java, C#, ObjC, PHP
This is cloud based API to recognize and extract text in any Latin-based language from the documents. This is basically only for iOS and Android device only. If you think to make some mobile app then with this API you can build some cool projects.
Here is the difference between On-device and cloud-based uses.
Recognize and Extract Text Docs Here
If you think to build a mobile app for iOS/Android then you can make something that can tell you real-time info about any location with your app. I think this will be a cool app to check real-time information about any location we visit.
Here is a screenshot of the result.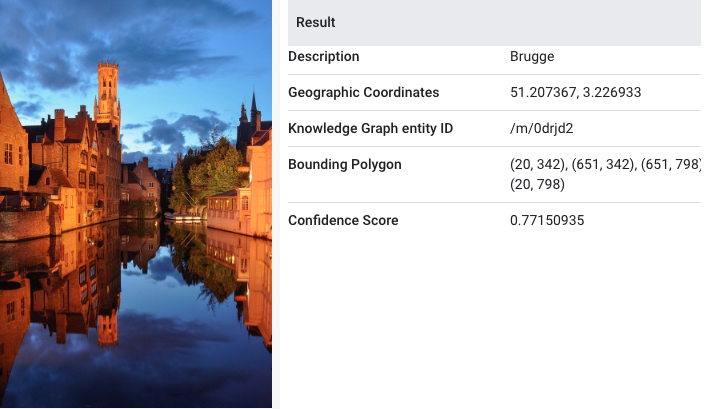 Cloudmersive
Cloudmersive have powerful APIs like Validate APIs, Natural Language Processing (NLP) APIs, Optical Character Recognition (OCR) APIs, Barcode APIs, Image and Face Recognition and Processing APIs, Voice Recognition and Speech APIs, Virus Scan APIs, Document and Data Conversion APIs.
You can build lot's of project with these APIs.
---
Thanks for reading...